As a mom who is new to knitting, I have been looking for websites that have really nice products AND video tutorials because I need a lot of step-by-step support. KnitPicks is a website that my avid knitting friends recommended to me because they have both AWESOME products, very reasonable pricing, detailed video tutorials and forums. Many have tried to show me how to knit, but after watching some of the tutorials on KnitPicks, I am actually finally getting the hang of it! The KnitPicks Community also includes project podcasts, online Knit-Alongs, and you can even connect with KnitPicks on Twitter and Facebook!

When I heard that they wanted to give away four balls of their Simply Cotton Worsted Yarn and the very cool Harmony Needle Set ($74.99 on their website right now), I was so excited because I know that a lot of my readers like to knit. This is another of those giveaways that make me wish I was just a ThingsMomsLike reader so that I could enter to win!

Here's the scoop on the Simply Cotton Worsted Yarn:

Our luxurious 100% organic cotton yarn is good for you and Mother Earth. The colors are naturally occurring shades, free from dyes or bleach. It's super soft, easy to work with and sure to bring pleasure to anyone who wears it. Color may vary from skein to skein since it is naturally occurring and not dyed.

ORGANIC! TOO. COOL.

The Harmony needles are really beautiful, multi-colored birch wood and the set comes with a clear case so that you can show off your pretty needles! The set includes Harmony Wood Knitting Needles in US sizes 4, 5, 6, 7, 8, 9, 10, 10.5 and 11 - Cables: 2 of each of 24" and 32" lengths, 10.5"x5.75"x2" zippered clear vinyl needle case, 5.75"x4.5"x0.5" clear vinyl case, 8 end caps and 2 cable keys.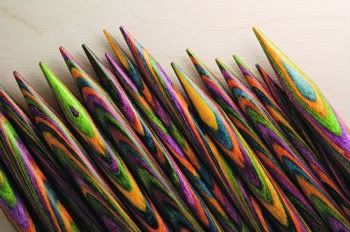 You can win the four balls of Simply Cotton Worsted Yarn shown in the photo above (Marshmallow, Malted Milk, Ginger and Toffee) and the Harmony Needle Set, a total value of approximately $90 and a cool value that's priceless!

Initial Entry: Go to their patterns page and comment here on which project you'd like to start with your winnings AND join their Facebook Group.

1 Extra Entry: Add KnitPicks on Twitter (comment here with your Twitter ID)

1 Extra Entry: Tweet this giveaway and post a link to the Tweet here - you can Tweet each day for an entry a day.

1 Extra Entry: Add my button (on the right sidebar) to your website

2 Extra Entries: Blog about this contest with a link back to this Giveaway!

Please be sure that you create a separate blog comment for each of the above entries or they won't count!

Giveaway ends May 30th.


I'm also participating in the Give It Away Now Blog Carnival! Stop by
MomMostTraveled.com
and check it out!